John Scott
The work of artist John Scott usually unfolds in series. Themes vary, incorporating multiple disciplines.
John likes to incorporate modern quantum theory within a whole mélange of seemingly incongruent ideas, landscape, history, archetypes, mythology and current sociological events. He pushes the visual moiré of these ideas to where he touches a kind of holographic representation of what reality may be, a multiverse with many ideas interwoven within the same space-time continuum.
John often uses Allegory to convey his subjective interpretation through perceived phenomena e.g. using our landscape's need for fire to rebirth itself into new growth.
The element of fire also needed to transmute or alchemise different states of consciousness to other, perhaps more refined, platforms of
understanding.
He sees the causal tension underpinning each subject approached and no single answer seems to come forward in this search.
"I'm tending to move toward new symbolism as a narrative beyond the normal façade of what we term "reality"."
John Scott © 2017Prizes
2013 – Semi-finalist Doug Moran Portrait Prize
SOLO EXHIBITIONS:
2016 – Chifley tower – Soho Gallery
2015 – 'Wind' : Without Pier Gallery, VIC
2012 – 'Prometheus and other Mythological Moirés 2012' : Glen Eira City Council Art Gallery, VIC
2009 – 'Telesma' : Global Gallery, Paddington, NSW
2009 – 'Vesica Piscis' : Soho Galleries, Sydney, NSW
2007 – 'Interconnected' : Zohara Gallery, Adelaide, SA
2007 – 'Dreams of Another Time' : Gallery O, Perth, WA
2006 – 'Landscape' : Lynne Wilton Gallery, Armadale, VIC
2005 – 'The Great Mother' : Global Gallery, Paddington, NSW
1985 – 'Landscapes' : Scone Gallery, Scone, NSW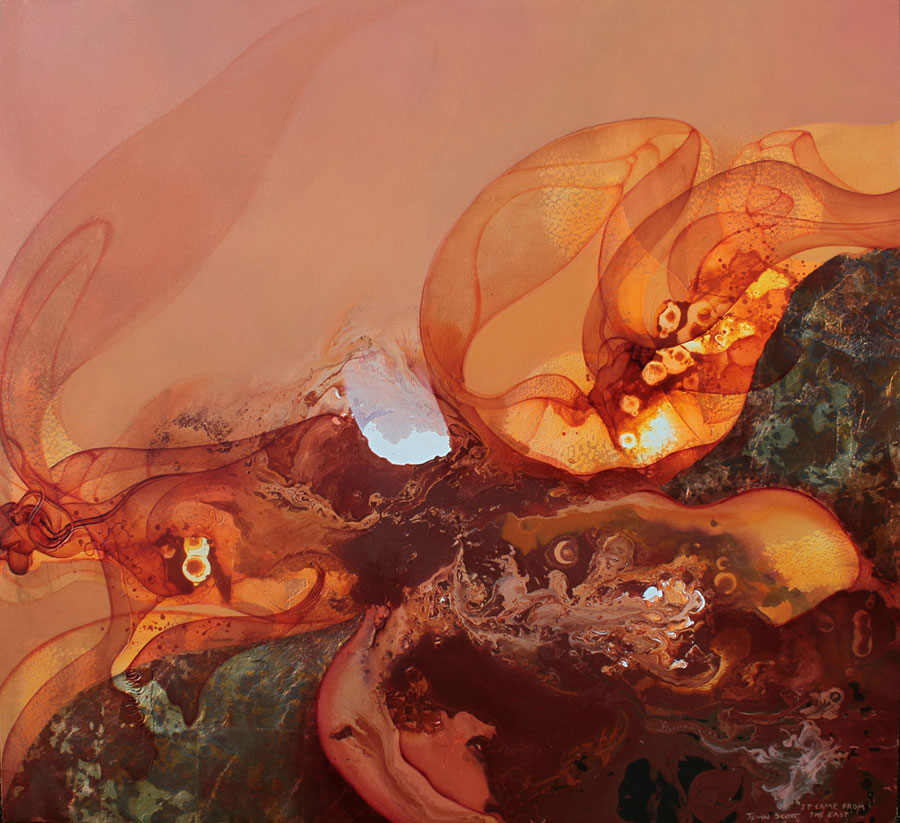 It came From The East
Oil on Canvas
129 X 120cm
$ 4,200
East Wind
Oil on Canvas
129 X 120cm
$ 4,200
Nurture
Oil on Canvas
109 X 100cm
$ 3,800
The Rebirth of Venus
Oil on Canvas
130 X 510cm (triptych)
$ 22,000